The e-Tourist Visa scheme was launched by Government of India on November 27, 2014. Under the scheme, government has relaxed visa norms for selected countries and introduced Tourist Visa on Arrival (TVoA) enabled by Electronic Travel Authorization (ETA) as E-Tourist Visa (eTV). An eTV is nothing but an electronic visa, which is provided online to eligible tourists from selected countries. Due to the relaxed visa regime, year 2015 witnesses about 4.5% growth in foreign tourist arrivals in India.
The E-tourist visa is an electronically issued and stored tourist visa for travel to India. It is issued online and valid for single entry only. It expires after 30 days and is also non-extendable and non-convertible. The Indian e-Tourist Visa is provided to citizens of select countries. During the launch in 2014, it was issued to citizens of 43 countries. As on 2016, the e-tourist visa facility is now available for citizens of 150 countries.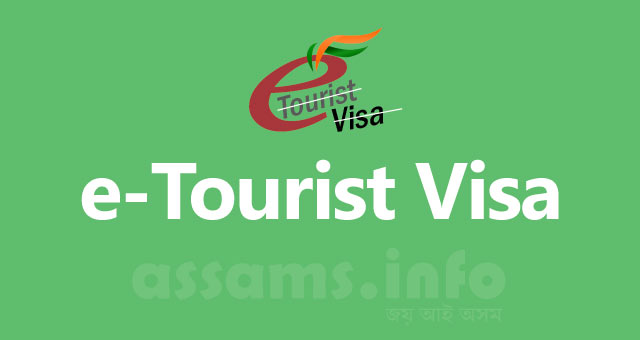 Features of e-tourist visa:
Easy electronic visa for selected countries. This facility is available in addition to the existing Visa services.
Easy online application process. Minimum information needed and online payment of visa fees.
Validity of the e-tourist visa is 30 days from the date of arrival in India.
Valid for entry through 16 selected airports: Ahmedabad, Amritsar, Bengaluru, Chennai, Cochin, Delhi, Gaya, Goa, Hyderabad, Jaipur, Kolkata, Lucknow, Mumbai, Tiruchirapalli, Trivandrum & Varanasi.
Exit from any of the authorized Immigration Check Posts in India.
Through e-TV, maximum of two visits are allowed in a calendar year.
The e-TV is valid for single entry and is non-extendable and non-convertible.
It is not valid for visiting protected or restricted and cantonment areas.
Eligibility
The application must have a valid passport of any one of the allowed countries.
The purpose of visit must be recreation, sight seeing, casual visit to meet friends or relatives, short duration medical treatment or casual business visit.
Passport should have at least 6 months validity from the date of arrival. There must be at least two blank pages for stamping by the Immigration Officer.
Travellers should have return ticket or onward journey ticket, with sufficient money to spend during his/her stay in India.
This facility is not available to Diplomatic/Official Passport Holders, individuals endorsed on Parent's/Spouse's Passport and International Travel Document Holders.
Travellers having Pakistani Passport or Pakistani origin need to apply for regular Visa.
How to get an E-Tourist Visa?
Tourists can get e-tourist visa in following simple steps.
Interested tourists need to visit the official website and apply online by providing his/her details.
Applicant need to upload scanned copies of his/her Photo and Passport Page.
Applicant is required to pay visa fee online through Credit / Debit card.
Once approved, the eTV will be sent to e-mail address provided by the applicant.
The applicant is required to get a printout of the eTV and carry it at the time of travel to India.
Countries eligible for e-Tourist Visa:
Following 150 countries are eligible for e-Tourist Visa :
Albania, Andorra, Anguilla, Antigua & Barbuda, Argentina, Armenia, Aruba, Australia, Austria, Bahamas, Barbados, Belgium, Belize, Bolivia, Bosnia & Herzegovina, Botswana, Brazil, Brunei, Bulgaria, Cambodia, Canada, Cape Verde, Cayman Island, Chile, China, China- SAR Hongkong, China- SAR Macau, Colombia, Comoros, Cook Islands, Costa Rica, Cote d'lvoire, Croatia, Cuba, Czech Republic, Denmark, Djibouti, Dominica, Dominican Republic, East Timor, Ecuador, El Salvador, Eritrea, Estonia, Fiji, Finland, France, Gabon, Gambia, Georgia, Germany, Ghana, Greece, Grenada, Guatemala, Guinea, Guyana, Haiti, Honduras, Hungary, Iceland, Indonesia, Ireland, Israel, Jamaica, Japan, Jordan, Kenya, Kiribati, Laos, Latvia, Lesotho, Liberia, Liechtenstein, Lithuania, Luxembourg, Madagascar, Malawi, Malaysia, Malta, Marshall Islands, Mauritius, Mexico, Micronesia, Moldova, Monaco, Mongolia, Montenegro, Montserrat, Mozambique, Myanmar, Namibia, Nauru, Netherlands, New Zealand, Nicaragua, Niue Island, Norway, Oman, Palau, Palestine, Panama, Papua New Guinea, Paraguay, Peru, Philippines, Poland, Portugal, Republic of Korea, Republic of Macedonia, Romania, Russia, Saint Christopher and Nevis, Saint Lucia, Saint Vincent & the Grenadines, Samoa, San Marino, Senegal, Serbia, Seychelles, Singapore, Slovakia, Slovenia, Solomon Islands, South Africa, Spain, Sri Lanka, Suriname, Swaziland, Sweden, Switzerland, Taiwan, Tajikistan, Tanzania, Thailand, Tonga, Trinidad & Tobago, Turks & Caicos Island, Tuvalu, UAE, Ukraine, United Kingdom, Uruguay, USA, Vanuatu, Vatican City-Holy See, Venezuela, Vietnam., Zambia, Zimbabwe.
References