King Sukaphaa (also pronounced as Siu-Ka-Pha), was the founder of the Ahom Kingdom. The Ahom Kingdom, that he established in 1228, ruled the region for nearly six hundred years. Those six hundred years were the 'Golden Age' of Assam.The details of Sukaphaa's life and origins before his entry into Assam, available from different chronicles, both Ahom and non-Ahom, are full of contradictions. According to Phukan (1992) who has tried to hold up a consistent account, Sukaphaa was born to Chao Chang-Nyeu (alias Phu-Chang-Khang) and Nang-Mong Blak-Kham-Sen in the Tai state of Mong Mao (also called Mao-Lung, with the capital at Kieng Sen), close to present-day Ruili in Yunan, China. Chao Chang Nyeu was a prince from Mong-Ri Mong-Ram, who had traveled to Mong Mao possibly on an expedition.
Mong Mao was then ruled by Chao Tai Pung. Chao Chang Nyeu was befriended by Pao Meo Pung, the son of the ruler, who gave his sister Blak Kham Sen in marriage. Sukaphaa was born of this union not later than 1189 and was brought up by his maternal grandparents. Pao Meo Pung, who eventually ruled Mong Mao, had no male heir and Sukaphaa, his nephew, was nominated to succeed him. A son born late to Pao Meo Pung's queen ended Sukaphaa's claim to the throne of Mong Mao.
Sukaphaa left Mong Mao in 1215. He was accompanied by three queens, two sons and a daughter; chiefs from five other dependent Mongs; members of the priestly class and soldiers—a total contingent of 9,000. Some commoners too joined this core group on the way. He had with him 300 horses fitted with saddles and bridles and two elephants. Heavy arms were transported along a different route.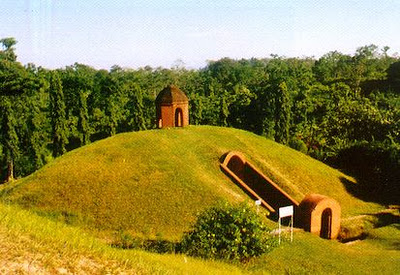 Sukaphaa followed an older known route from Yunan to Assam stopping at various places and reached the Patkai hills in thirteen years. When he reached Patkai, he subdued the Nagas very ruthlessly to create a passage back, crossed the Patkai and reached Namruk. He established a Mong at Khamjang under the rule of Kan-Khrang-Mong in 1228, which is considered as the historical date of the beginning of the Ahom Kingdom and Khamjang the eastern most province of the kingdom.
In the Brahmaputra valley, he encountered the Barahi and the Moran peoples, tribes that spoke Tibeto-Burman languages. He did not battle but befriended them. This was facilitated by marriages into these tribes since most of the soldiers in his party came without their women folk. This process of assimilation completely obliterated the Barahi as an independent tribe.
Over the next few years, he moved from place to place searching for the right capital, leaving behind his representative at each stage to rule the colonized land. At first he went to Dangkaorang, then Khamhangpung, and then to Namrup. Then he went up the Burhidihing river and established a province at Lakhen Telsa. Then he came back down the river and established his rule at Tipam. In 1236 he moved to Mungklang (Abhoipur), and in 1240 down the Brahmaputra to Habung. In 1244 he went further down to Ligirigaon (Song-Tak), a few miles from present-day Nazira, and in 1246 to Simaluguri (Tun Nyeu), a place downstream from the present-day Simaluguri. Sukaphaa then remained in Demow for six years. Finally in 1253 he built himself his capital city at Charaideo near present-day Sibsagar town. The capital of the Ahom kingdom changed many times after this, but Charaideo remained the symbolic center of Ahom rule.
Sukaphaa died in 1268. At the time of his death, Ahom kingdom was bounded by the Brahmaputra river in the west, the Burhidihing river in the north, the Dikhow river in the south and the Naga hills in the east.
Assam Information Portal