Assam Chief Minister Tarun Gogoi has launched a special scheme for students securing 50% marks in HSLC and other equivalent Class 10 examinations conducted by a state board. The scheme is named "Chief Minister's Special Award Scheme". Under the scheme, a Netbook computer and a certificate will be provided to all eligible students in Assam. Cash option in lieu of the Netbook is also available. Note that Chief Minister's Special Award Scheme is different from Anundoram Borooah Award Scheme. This is a special award scheme for those who scored 50% marks in HSLC/AHM or similar class X exam. Find below more details and instructions on how to apply.
The award:
A citation signed by Assam Chief Minister Tarun Gogoi.
A Netbook computer and accessories. Cash option in lieu of the netbook.
Eligibility:
Students who secured at least 50% mark in following:
HSLC/High Madrassa examination conducted by SEBA, Assam
FM examination conducted by State Madrassa Education Board, Assam
Class 10 examination conducted by State Sanskrit Board, Assam
Chief Minister's Special Award Scheme Netbook Configuration:
Display: 10.1 inch (diagonal)
Processor: Intel Atom D2500 1.5GHz or more
Hard disk: 160 GB
Memory: 1 GB DDR3
Graphics: Integrated Intel GMA 3600
Ethernet port: Realtek PCle Fe Family 1000Mbps
Wireless port: 802.1n
Operating system: Ubuntuand NOVA Cloud OS
Weight: 1.1 kg
Other features: Webcam, HD audio, 2 USB ports, 1 VGA port, rJ45 port, headphone socket, microphone socket, touchpad, mini keyboard etc.
How to apply:
If a student opts for the computer (Netbook), formal application is not required.
But if a student decided to accept cash, he/she formal application is required. Copies of mark sheet and admit card must be attached with the application. The marksheet and admit card copies must be attested and countersigned by the Head of the Institution from which the student appeared and passed the respective examination. The application should reach the designated office (look below for address) on or before January 6, 2014. Application can be sent via post or in person.
Address:
Managing Director
Assam Electronics Development Corporation Ltd (AMTRON)
Industrial Estate, Bamunimaidan,
Guwahati – 781021
Assam
Following is the actual newspaper ad (released by Gov of Assam) related to Assam Chief Minister's Special Award Scheme.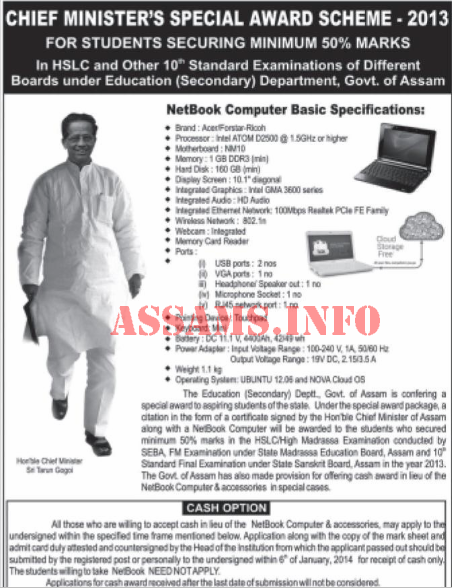 Update:According to a recent news release, the Kamrup (Metro) awards will be distributed on January 16, 2014. Venue is Sarusajai Sports Complex, Guwahati. Invitation cards are being sent to respective educational institutions. Eligible students may contact their high school / high-madrassa for the invitation card.
Following is the original advertisement. It says "Attention 2nd Division holders with 50% and above marks in Kamrup (Metro) district".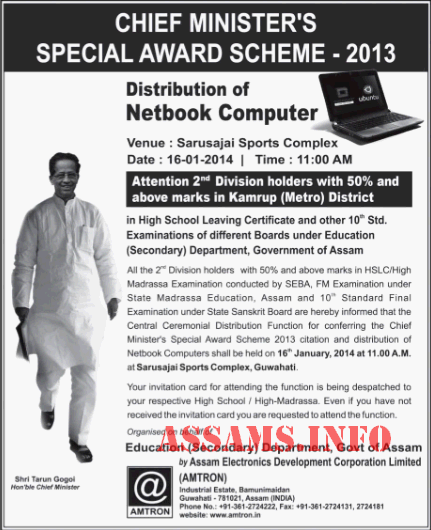 Postponed till January 25, 2014 February 5, 2014.