Homen Borgohain
Homen Borgohain (Born 1932) is an eminent Assamese writer and journalist. He is one of the most influential novelists and writers of Assam. Borgohain was the president of the Asam Sahitya Sabha during 2001-02.
Biography: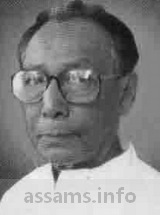 Homen Borgohain was born on December 7, 1932 at Dhakuakhana in Lakhimpur district of Assam. He studied at Cotton College, Guwahati. Borgohain is married to famous Assamese writer Nirupoma Borgohain. Borgohain was an Assam govt officer. But he resigned after an issue related to his work. He edited Saptahik Nilachal, Sutradhar, Asom Bani and North East Times. He is currently working as the Chief Editor of popular Assamese daily Amar Asom.
His first novel was Suwala (1962). The novel narrated the life of a simple village girl, who comes to a city in search of a better life but ends up in prostitution because of social and economical factors. His second novel Tantrik (1967) examined the values of mysticism. Borgohain's essays are widely read in Assam.
Homen Borgohain was the president of Asam Sahitya Sabha during 2001-02. In 2013, he resigned from all posts of Asam Sahitya Sabha including primary, honorary and lifetime membership. He took the action protesting irregularities inside the largest literary organization of Assam.
Home Borgohain is also a social activist. He recently founded Karunadhara – a non-profit organization to help people suffering from physical/mental illness and to support financially poor people in receiving costly specialized medical treatment.
Works of Homen Borgohain:
Novels: Shubala (1962), Tantric (1967), Kushilaba (1970), Matsya Gandha (1987), Pita putra (1975), Timir Tirtha (1977), Edinor Diary, Astoraag, Nisongota, Halodhiya Soraye Baodhan Khai (1973), Saudor Puteke Nae Meli Jai, Bisannata, Antaraag (1986)
Short Stories: Galpa Aru Naksa, Swapna Smriti Bisad
Essays: Jignasa, Jibanor Madhuratam Samay, Itihasor Sakshi
Autobiographical: Atmanusandhan, Dhumuha aru Ramdhenu, Mur Hridoy Ekhon Judhokshetro
Other books: Gadya Sadhana, Progyar Sadhana, Manuh Huar Gourab
Awards:
#assams.info
Assams.Info - The Assam Information Portal