Tarun Ram Phukan
Tarun Ram Phukan (1877-1939) was a prominent political leader, hunter and writer from Assam. He was a true patriot, who worked for his country and countrymen. Respecting Tarn Ram Phukan's intense love for his country, Assamese people call him "Deshbhakta" (meaning "One who Love his country" or simply Patriot).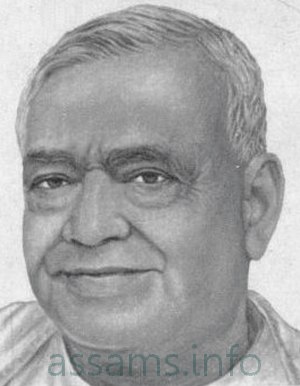 Early life and Career:
Tarun Ram Phukan was born on January 22, 1877 at Guwahati, Assam. He completed schooling from Cotton Collegiate School, Guwahati. In 1896, Phukan went to Calcutta and studied at Presidency College. In 1901, he left for England and earned Bar-at-Law degree from London. After becoming Barrister, Phukan returned to India and joined Calcutta High Court. Later he also served as Lecturer at the Earle Law College in Guwahati, Assam. He also served as Chairman of the Municipal Board and Local Board of Guwahati.
In 1920, Phukan joined the Congress Party. He jumped into the Non-cooperation Movement. Phukan played an important role in establishing Indian National Congress in Assam. In 1921, Assam Provincial Congress Committee (APCC) was formed in Guwahati. As Tarun Ram Phukan was still practicing law, he didn't contested for presidentship and Kuladhar Chaliha became the president. In 1921, when Mahatma Gandhi visited Assam, Phukan was his trusted companion. After British declared Congress an illegal body, Tarun Ram Phukan got arrested. He remained in jail till November, 1922. That year, Phukan attended the Gaya Session of Indian National Congress and supported Swaraj Party, proposed by Chittaranjan Das and Motilal Nehru. In 1926, Phukan became the Chairman of the Congress Reception Committee and also got elected to the Congress Working Committee for the year 1927.
Social Works:
Tarun Ram Phukan worked for spreading education upliftment of the under-privileged sections of society. He fought for removal of untouchability and advocated equality of the sexes. He appealed to the womenfolk of India to come out from the boundaries of their house and play an active role in national affairs. He opposed cultivation and consumption of the Opium. Tarun Ram Phuka popularised use of Khadi and other Swadeshi goods in Assam. He also established a Leper Asylum in Guwahati.
Contribution to Assamese Literature:
Tarun Ram Phukan was a great orator and also a prominent writer. He narrated his hunting experiences in several works. He served as the President of the Assam Sahitya Sabha at its Goalpara Session in 1927. In his presidential adress at the Sahiya Sabha session, Phukan said: "We Assamese are a distinct nationality amongst Indians. Though our language is Sanskrit based, it is a distinct language." He also served as President of the Assam Chhatra Sammelan in 1928.
Conclusion:
Tarun Ram Phukan was a patriotic leader, who worked for freedom and well being of the masses. Deshabhakta Tarun Ram Phukan died on July 28, 1939.
Assams.Info - The Assam Information Portal