Jorhat College (Amalgamated) is an college of arts education in Jorhat, Assam. It was formed by combining Jorhat College and New Jorhat College, both established in 1962. The amalgamation took place in 1970. The Jorhat College offers Three Year Degree Course, called as Six Semester Degree Programme in Arts. It also offers Bachelor in Arts (B.A) under Distance Mode from Dibrugarh University. The College is accreditated by NAAC and is affiliated to Dibrugarh University, Dibrugarh. Jorhat College has following departments: Assamese, Economics, Education, English, History, Philosophy, Political Science and Sociology. It also runs a computer literacy programme for students.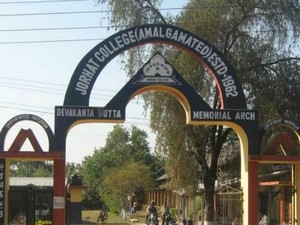 Courses Offered at Jorhat College:
Six Semester Degree Programme (SSDP) in Arts.
Bachelor in Arts (B.A) – Distance Mode
Short Term Course in Computer
Jorhat College Contact Information:
Mahatma Gandhi Road,
Jorhat-785001,
Assam, India
Phone: +91-376-2301894
Email: principal@jorhatcollege.org.in
Website: www.jorhatcollege.org.in
Jorhat College, Jorhat Info:
Jorhat College, Jorhat Location Map:
Jorhat College, Jorhat listing on Assam Yellow Pages. Find detailed Jorhat College, Jorhat information, reviews, address, contact numbers and other details.