Gana Adhikar is an Assamese language daily newspaper. Gana Adhikar is published from Guwahati, Assam, India. This Assamese daily is also available online as an ePaper. The online version of Gana Adhikar (ePaper) is free for all. The epaper is updated regularly.
Assamese newspaper Gana Adhikar is printed and published by Dr. Jakir Hussain under the banner of Unity Media & Infrastructure Ltd of Guwahati, Assam. The Editor-in-chief of the newspaper is Dr. Dilip Bora.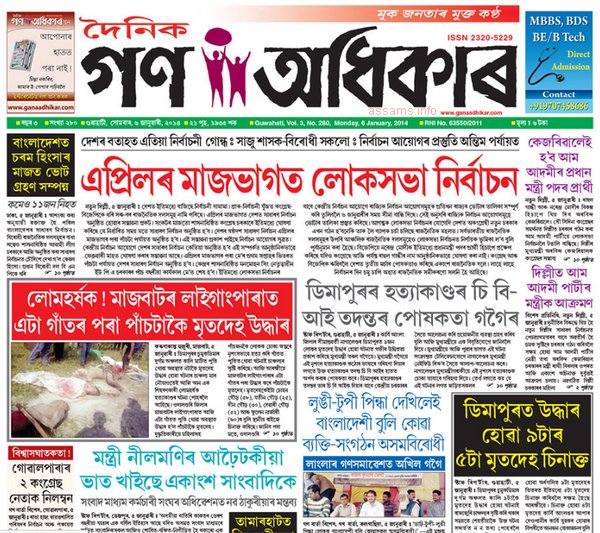 Gana Adhikar Address and Contact numbers:
Address:
Gana Adhikar
UNITY MEDIA AND INFRASTRUCTURE LIMITED
Fazham Complex, # 68, Hatigaon Chariali, Hatigaon,
Guwahati – 781038
Assam, India
Phone & Email:
Phone numbers: 0361-2224466; 2224488 (FAX)
email : ganaadhikar123@gmail.com
Website:
ePaper URL: www.ganaadhikar.com
Gana Adhikar – Assamese Daily Newspaper Info:
Gana Adhikar – Assamese Daily Newspaper business listing on Assam Yellow Pages. Find detailed Gana Adhikar – Assamese Daily Newspaper reviews, details, address & contact numbers.