Pramathesh Barua
Pramathesh Barua (1903 – 1951) or Pramathesh Chandra Barua or P.C. Barua was an actor, director and screenwriter of Indian films. Born in Assam, P.C. Barua is one of the pioneers of Indian film industry. He is best know for his work Devdas.
Biography:
Pramathesh Barua was born on October 24, 1903 in Gauripur, Assam, India. He was the son of Raja Prabhat Chandra Barua of the Gauripur royal family. Barua did schooling from Hare School, Calcutta. In 1924, he earned Bachelor of Science degree from the Presidency College, Kolkata. Then he went to Europe, where he came to know about films. Returning home, Pramathesh Barua became a legislator of Assam Legislative Council in 1928. He was re-selected in the year 1930. He rejected an offer of ministerial post and stayed with Swaraj Party of Chittaranjan Das. But soon he moved to Calcutta and started his film making career.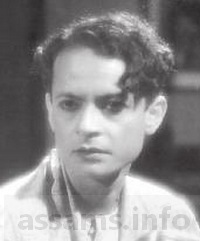 P. C. Barua went to Europe second time and learned movie production in London. Then he purchased some lighting equipments in Paris and returned to India. Back in Calcutta, he started Barua Pictures Limited. The first major film of the studio was Aparadhi (1931), that starred Barua and was directed by Debaki Bose. Barua's next film was Bhagyalaxmi (1932). He played the role of a villain. Later Barua joined the New Theatres film studio in Calcutta.
In 1935, Pramathesh Barua directed and acted in Devdas, a romantic film based on Saratchandra Chatterjee's novel Devdas. The film became phenomenally successful in the industry. In 1936, Barua remade Devdas in Hindi with Kundan Lal Saigal in lead role. The Hindi Devdas became successful throughout India and placed Pramathesh Barua in the list of top Indian film directors.
Barua's other film ventures were Manzil (1936), Mukti (1937), Adhikar (1938), Rajat Jayanti (1939), and Zindagi (1940). He left the New Theatres film studio in 1939 and started freelancing. Later he created Shesh Uttar/Jawab in 1942.
Pramathesh Barua died on November 29, 1951 in Kolkata.
#assams.info
Assams.Info - The Assam Information Portal