Omeo Kumar Das
Amiyo Kumar Das (1895 – 1975) or Omeo Kumar Das was an well-known Gandhian, social worker and writer from Assam. Amiyo Kumar Das was honored with the title 'Lokanayak'.
Biography: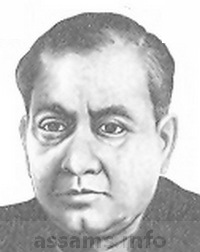 Amiyo Kumar Das was born in May 25, 1895 at Nagaon, Assam. He studied at Tezpur High School, Tezpur and Cotton College, Guwahati and City College, Calcutta. Das was actively involved with the Indian movement of freedom.
Das was elected to the Constituent Assembly and became the Labour Minister. As a minister, Amiyo Kumar Das took initiative to set up Tea Plantation Worker's Provident Fund for the benefit of tea plantation workers of Assam. Das also played a great role in organising the labor class of Assam and involving them in the national movement. He also attended several international labor conferences.
Lokanayak Omeo Kumar Das was actively associated with the Gandhi Smarak Nidhi. He wrote several books on Mahatma Gandhi. For example: Gandhijir Jiboni, Mahatma Gandhik Aami Kidore Bujilu, Asomot Mahatma etc.
Omeo Kumar Das passed away in the year 1975.
#assams.info
Assams.Info - The Assam Information Portal