Nirupama Borgohain
Nirupama Borgohain (born 1932) is an eminent Assamese novelist. She was honoured with Sahity Akademi Award for her novel Abhijatri.
Biography: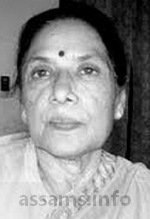 Nirupoma Borgohain (Nirupama Tamuli) was born in 1932 at Jur Pukhuri in Guwahati, Assam. She studied at Cotton College, Guwahati and Calcutta University, Kolkata. Borgohain was double Post Graduate in Assamese and English. She worked as English lecturer at various colleges in Assam. She edited Saptahik Sanchipat and Chitrangada.
Nirupoma Borgohain is married to popular Assamese writer Homen Borgohain. The have two sons – Anindya and Pradipta.
Nirupama Borgohain is one of the most notable female novelists of Assam. Her first novel was Hei Nodi Niravadhi (1963). It was set on life of a female protagonist. Her novel Abhijatri (1995) was based on the life of Chandraprabha Saikiani. It won her the Sahitya Akademi Award in the year 1996.
Nirupama Borgohain also wrote several short stories. Many of her works are now available in English language (translated by her son Pradipta Borgohain). Selected Short Stories Of Nirupama Borgohain is also compiled by Pradipta Borgohain.
Works of Nirupama Borgohain:
Novels: Hei Nodi Niravadhi (1963), Dinor Pisot Din (1968), Antah Shrota (1969), Hridoy Eta Nirjon Dweep (1970), Samanya Asamanya (1971), Cactus Phul (1976), Iparor Ghor Siparor Ghor (1979), Bhabishyot Ronga Surjya (1980), Anya Jibon (1986), Champabati (1990), Abhijatri (1995), Barasun (2011)
Assams.Info - The Assam Information Portal