Lakhyadhar Choudhury
Lakshyadhar Choudhury (1914–2000) was famous multifaceted personality from Assam. He was a dramatist, poet, writer, actor and freedom fighter. He served as teacher, as mayor and also as a minister. Choudhury was the president of the Asam Sahitya Sabha and the Assam Natya Sanmilan.
Biography: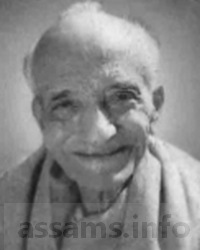 Lakhyadhar Choudhury was born on October 14, 1914. He started writing since he was in school. In Class nine, he wrote a drama titled Ekalavya. He professional life started as a teacher. But he left the teaching job in jump into the Quit India Movement of 1942. Later he joined the Socialist Party and got elected as an MLA once. In 1978, he became the minister of Education and Cultural Affairs. In 1992, Choudhury presided over the Goreswar session of Assam Sahitya Sabha. He was also the Mayor of the Gauhati Municipal Corporation.
Some of his published works include Umola Ghar, Thikona, Nimila Angka, Manuh Bisari etc. Choudhury also acted in Assamese movies like Nimila Anka and Badan Borpukhan. Nimila Anka was directed by Choudhury himself. It was an excellent film that dealt with the sufferings of the lower middle- class.
Lakshyadhar Choudhury passed away in the year August 18, 2000.
Works:
Umola Ghar, Thikona, Nimila Angka, Raksha Kumar, Manuh Bisari, Ali Baba etc.
Assams.Info - The Assam Information Portal