Jatindranath Goswami
Jatindranath Goswami (Born: 1918 ) is an eminent Assamese writer, editor and biographer. Asam Sahitya Sabha gave him the Sahityacharya title. He was the president of Asam Sahitya Sabha's 47th annual session held at Raha, Nagaon in 1980.
Biography: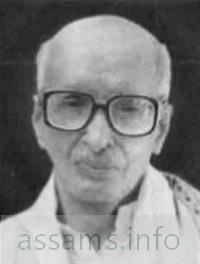 Jatindra Nath Goswami was born in 1918 in Jorhat district of Assam. After finishing schooling in Assam, Goswami went to Calcutta for higher studies. In 1950, he earned M.A. degree from Calcutta University. Returning home, Jatindranath Goswami joined Jagannath Baruah College in 1962.
In early 60s, Goswami wrote several books including Asomiya Sahityar Samu Buranji (A short history of Assamese Literature, 1957) and Shiksha Manobijnanar Aabhas (Hints on Educational Psychology, 1959). He was also a good biographer and editor. Jatindranath Goswami was associated with Asam Sahitya Sabha since 1953. In 1980, he became the president of 47th annual session of Asam Sahitya Sabha held at Raha in Nagaon district of Assam.
In 1997, Asam Sahitya Sabha honoured Jatindranath Goswami with Sahityacharya title.
Works of Jatindranath Goswami:
Author: Asomiya Sahityar Samu Buranji (1957), Shiksha Manobijnanar Aabhas (1959), Lakshminath Bezbaruah (1968), Hemchandra Barua (1987)
Editor: nandaram Dhekial Phukan (1959), Laxminath Bezbaruah's Mur Jibonor Suwaron (1961), Bezbaruar Pradhan Bachani (1968), Krishna Kanta Hondikoir Rochona Sombhar (1984) etc.
#assams.info
Assams.Info - The Assam Information Portal