Golap Borbora
Golap Borbora (1925 – 2006) was an Indian freedom fighter and political leader. He was the first non-congress Chief Minister of Assam, India.
Biography:
Golap Borbora was born on August 29, 1925 in Golaghat district of Assam.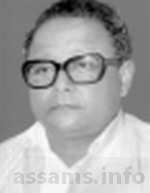 In 1977 Borbora became the president of Janata Party. In 1978, he got elected to Assam Legislative Assembly from Tinsukia and became the Chief Minister of Assam. He was the first non-Congress Chief Minister of the state. The Golap Borbora Ministry was supported by the Plains Tribal Council of Assam (PTCA), the CPI-M, and the Popular Democratic Front (PDF). But his ministry lasted only till September 1979. His action against influx of illegal immigrants from Bangladesh was one of the main reasons. The pro-foreigners elements in power bought down the government (source:1). The fall of state government resulted imposition of Presidential Rule in Assam.
Golap Borbora died on March 19, 2006.
Source:
1. Shaping India's New Destiny by Jagmohan
Assams.Info - The Assam Information Portal