Chandraprabha Saikiani
Chandraprabha Saikiani (1901 – 1972) was an Assamese poet and social reformer. She protest against all forms of oppression and discrimination against women. She was the founder of the Assamm Pradeshik Mahila Samity.
Biography: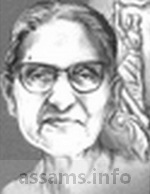 Chandraprabha Saikiani was born on March 16, 1901 at Daisingari, a remote village in Kamrup district of Assam. Her maiden name was Chandraprava Das. After obtaining primary scholarship, she went to Nagaon Mission School. Her career started as a teacher in a Nagaon primary school. Later, she was appointed as the headmistress of the Girl's High School.
As a child, she was engaged to an much older man. But defying all social norms of that time, she refused to marry him. Then during her career as a school teacher, she became an unwed mother. But she faced the world with courage and brought up her son as a single mother. Chandraprabha is known to mobilize women through her speech at the Nagaon session of the Assam Sahitya Sabha in 1925. At that time, women were made to sit behind separate enclosure made of bamboo. Hurt by such practice, Chandraprabha she went up to the stage and publicly denounced the system of keeping women behind the enclosure. Her spirited speech inspired the women present at the meeting to break down the barriers and join men in the larger public place.
Saikiani worked for organizing women in Assam villages. In 1926, she formed Assam Pradeshik Mahila Samiti. The Samiti raised voice on issues like prevention of child marriage, women's education and self-employment avenues for women. Chandraprabh Saikiani took part in Non Cooperation Movement of 1930 and got jailed. She continued to offer her service as a Congress worker till 1947. In 1948, Saikiani raised her voice against temples that won't allow women. She also protested child marriage, polygamy and old men marrying young girls.
Her short story Devi was published in Assamese magazine Bahi (1918). She was the editor of Ahom Pradeshik Mahila Samity's mouthpiece – Abhijatri for 7 long years. She wrote several novel including Pitribhita which was published in 1937. Chandraprabha Saikiani passed away on March 16, 1972. She was posthumously honored with Padmashree Award in the year 1973.
Works:
Pitribhitha (the paternal home) (1937), Sipahi Bidrohat (Sepoy Mutiny), Dillir Sinhasan (Throne of Delhi), Kavi Anav Ghosh etc.
Assams.Info - The Assam Information Portal