Binanda Chandra Barua
Binanda Chandra Barua (1903 – 1994) was an eminent Assamese writer and poet. He is popularly known as Dhwani Kobi. He was the president of the Asam Sahitya Sabha in 1966. Barua was conferred with title "Sahityacharya" by Asam Sahitya Sabha.
Biography: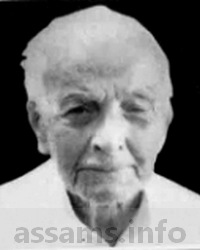 Binanda Chandra Barua was born in 1903. He contributed to the development of Assamese drama since the pre-independence period. Some of his popular works include Gargaon, Sankha dhwani, Jaidhwani and Pratidhwani. He also wrote a biography of Maharaj Naranarayana, the ruler of Western Assam Kingdom of Koch.
In 1966, Binanda Chandra Barua presided over the 33rd annual session of Assam Sahitya Sabha held at North Lakhimpur, Assam. In 1989, he was honored with the title of Sahityacharya by the Assam Sahitya Sabha.
Works:
Gargaon, Sankhadhwani, Jaidhwani, Pratidhwani
#assams.info
Assams.Info - The Assam Information Portal