Benudhar Sharma
Benudhar Sharma (1894-1981) was an eminent litterateur and a historian of Assam. He was the president of the Assam Sahitya Sabha in 1956. Sharma was honoured with several awards including the Sahitya Akademi Award and the Padma Bhusan.
Biography: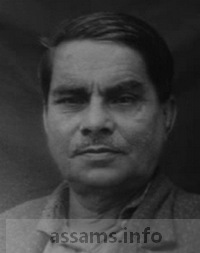 Benudhar Sharma was born on November 16, 1894 at Charing in Sibsagar district of Assam. He studied at Chamargaon L. P. School and Sibsagar Government High School. Later he went to Calcutta and studied at Bangabasi College. He took part in non-cooperation movement in 1921 and 1930.
Sharma wrote many historical books on Assam. He also edited Wade's An Account of Assam. Benudhar Sharma won Sahitya Sakdemi Award for his book Congressor Kasiyoli Rodot (In the Morning Sun of Congress, 1959). He was elected as the president of Asam Sahitya Sabha for the 1956′s annual session held at Dhubri.
Benudhar Sharma passed away on February 26, 1981. He was posthumously awarded the Padmabhusan in 1983.
Works of Benudhar Sharma:
Assamese Language: Robinson Cruse (1918), Congress Guide (1926), Jawaharlal Neherur Jiboni (1935), Rangpota (1943), Mongolotir Konthomala (1946), Gangagoninda Phukan (1950), Maniram Dewan (1950), Doorbin (1951), Asom Sahityo Sobhar Buranji Sakhar Abibhason (1953), Congressor Kasiyoli Rodot (1959), Arghyawali (1967), Dakhinpat Sattra (1968), Phul Chandan (1968), Moromor Kareng (1968), Hemchandra Goswamir Rosonaboli (1971), Hemchandra Goswamir Jiboni (1971), Maniram Dewanor Geet (1976) etc.
English Language: The Rebellion of 1857 vis-a-vis Assam (1957); John Peter Wade's An Account of Assam (1927) Editor
Assams.Info - The Assam Information Portal