Atul Chandra Hazarika
Atul Chandra Hazarika (1903–1986) was a prominent Assamese writer and dramatist. He was known as Dipalir Kobi. Hazarika was the president of Asam Sahitya Sabha's Nagaon session in 1959.
Biography: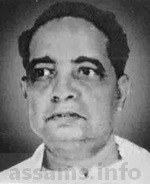 Atul Chandra Hazarika was born on the September 9, 1903 in Latasil. He obtained M.A. degree from Calcutta University and started his service life as teacher of Assamese literature. Hazarika retired from Cotton College, Guwahati as a professor and head of the department of Assamese.
Atul Hazarika wrote more than one hundred books in Assamese language. In early thirties, he wrote several Assamese dramas. His major historical works include Kannuj Kumari, Chhatrapati Shivaji and Tikendrajit. Hazarika was a good editor and compiler. He edited several works of Laksminath Bezbaruah. He compiled works of talented but lesser known Assamese writers who died early and published them in the form of Moroha Phoolor Koroni. Atul Chandra Hazarika also authored many story books for children. His adaptation of western classics such as Grimor Xadhu, Andersonor Xadhu were extremely popular in Assam.
Hazarika was one of pioneers responsible for giving a new life to Bihu, the national festival of Assam. He was associated with the committee that organized first ever Bihu on stage (Latasil in Guwahati). Hazarika was also associated with Asam Sahitya Sabha and became the president of 27th annual session of literary organization in 1959. Hazarika was awarded Sahitya Akademi Award in 1969 for his work Monchalekha, which traced five hundred years of Assamese drama and stage. He was also awarded Padma Shri by Government of India in 1971.
Works:
Drama: Kannuj Kumari (1933), Nanda Dulal (1935), Champavati (1935), Chhatrapati Shivaji (1947), Tikendrajit (1959) etc.
Children's books: Grimor Sadhu, Andersonor Sadhu, Genji Konwaror Sadhu
Other works: Moroha Phoolor Koroni
Assams.Info - The Assam Information Portal