Ambikagiri Raichoudhury
Ambikagiri Raichoudhury (1885 – 1967) was an Assamese poet, writer, radical thinker and nationalist. Assamese people called him Assam Kesari (the Lion of Assam). Raichoudhury presided over the 1950′s annual session of Assam Sahitya Sabha.
Biography: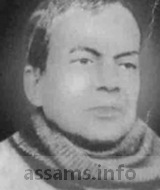 Ambikagiri Raichoudhury was born in 1885 at Barpeta, Assam. His father was Krishnaram Rai Choudhury. Raichoudhury took part in Indian Independence Movement and got jailed by the British. He founded the Asom Sangrakshini Sabha (Assam Preservation Council), Asom Jatiyo Mohaxobha (Assam National Congress) and Gauhati Sangeet Vidyalay.
Ambikagiri Raichoudhury was author of the famous Assamese song – Bandhu Ki Chandere. His poetic works included Bedonar Ulka, Tumi, Bina and Sotdhar. He also wrote dramas like Bondini Bharat, Jaidrath Badh, Bhakta Gaurab and Kalyanmoie. Other literary works of Rai Choudhury include Deka Dekerir Ved (the Veds for young boys and girls), Ahuti, Smriti Grantha and Anubhuti. He also edited two Assamese magazines – Deka Asom and Setona.
In 1950, Ambikagiri Rai Choudhury got elected at the president of Assam Sahitya Sabha. He was honoured with Sahitya Akademi Award in the year 1965.
Ambikagiri Raichoudhury passed away in 1967.
Assams.Info - The Assam Information Portal