Assam Public Service Commission (APSC) is inviting applications for the Combined Competitive Examination or Assam Civil Services Exam 2018 (CCE 2018). There are total 165 vacancies in following posts/services: Assam Civil Service (Junior Grade), Assam Land and Revenue Service (Junior Grade), Assam Police Service (Junior Grade), Superintendent of Taxes, Superintendent of Excise, Assistant Employment Officer, Labour Inspector, Inspector of Taxes and Inspector of Excise. You can download the full advertisement from this link.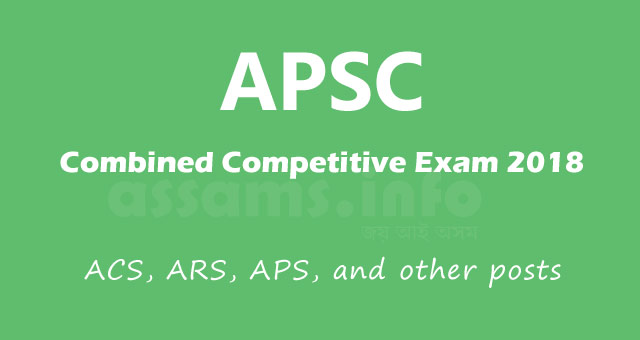 Vacancies:
The CCE 2018 will be conducted to recruit candidates for a total of 165 vacancies. Out of these 165 vacancies, 47 posts are reserved for women and 6 posts are reserved for persons with disability (PWD). The posts/services wise vacancies are listed below.
Assam Civil Service (Jr Grade): 43 posts
Assam Land and Revenue Service (Jr Grade): 56 posts
Assam Police Service (Jr Grade): 8 posts
Superintendent of Taxes: 10 posts
Superintendent of Excise: 1 post
Assistant Employment Officer: 2 posts
Labour Inspector: 10 posts
Inspector of Taxes: 32 posts
Inspector of Excise: 3 posts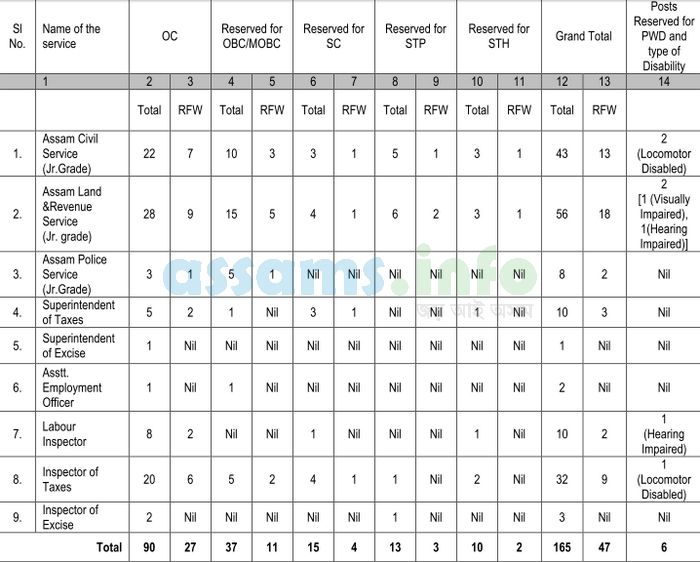 Eligibility:
To be eligible for Assam Civil Services Exam 2018, the applicant must be an Indian Citizen. Other eligibility criteria include:
Age: 21 years to 38 years as on 01.01.2018. Age relaxation of 5 years for SC/ST; 3 years for OBC/MOBC; 10 years for Persons with disabilities (PWD) and 2 years for Ex-servicemen.
Educational qualification: Degree from an recognized University. Candidates awaiting results are not eligible.
Examination Fees:
 The examination fees must be paid through treasury challan. The fee structure varies from zero to Rs. 250:
Open category candidates: Rs. 250
SC, ST(P) & ST(H), OBC and MOBC category candidates: Rs. 150
PWD and BPL category candidates: 0 (Zero)
How to apply?
APSC CCE 2018 will be conducted in three stages. The first stage is preliminary, for which eligible candidates are required to apply offline in the prescribed form. The application for is available online at www.apsc.nic.in or in this link. The process is simple.
Download the application form.
Go to your nearby Treasury and and prepare a challan. If you are from PWD or BPL category, avoid this step.
Fill out the application form with all the required information, paste a photograph of your self and sign the form.
Get photo copies of the required documents such as HSLC admit, degree certificate caste certificate, disabilities/BPL certificate (if applicable).
Send the application form along with the documents to Deputy Secretary, APSC, Jawahar nagar, Khanapara, Guwahati-22. You can also submit the form in person.
Important Dates:
Application process will start from May 18, 2018 (18/05/2018).
Last date of submission of form is June, 18, 2018 (18/06/2018).
For more information on APSC Assam Civil Services Examination, you can read our APSC Guide and other relevant pages such as how to prepare for civil service examination.