What to expect in APSC Interview?
Interview is the final stage of the Combined Competitive Examination (CCE), which is conducted by Assam Public Service Commission (APSC) for recruiting to Assam Civil Service, Assam Police Service and other allied services/posts. Candidates who successfully clears the Combined Competitive Main Examination are invited to the interview. What to expect in APSC Combined Competitive Examination Interview? APSC interview questions may range from your hobby to why you want to join Assam Civil Services. Mostly they'll ask questions related to yourself, your field and general knowledge. The key is to be smart and confident while answering the questions. For the benefit of future candidates, we are trying to point out some important topics for APSC interview. Some sample questions are also provided. We hope this page will help candidates, specially the first-timers, in understanding the pattern of APSC interview questions.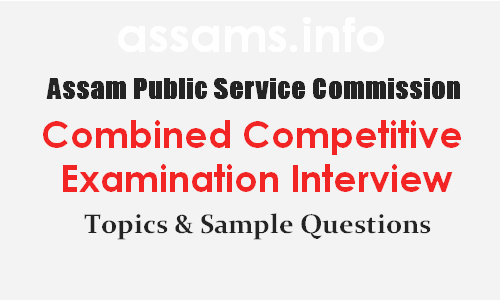 APSC Combined Competitive Exam Interview Questions:
Personal Questions:
Name: Know the proper meaning of your name. If your name is related to any mythological character or any popular personality, some members of the interview board might ask some questions related to your name.
Hobby: What is your hobby? This is the most common question. (From experience: sometimes they ask you to name your hobby and move on to next topic). But that doesn't mean that hobby is a topic of low gravity. Hobby related questions can also be asked to test commitment, passion and dedication of the candidate for a work/task (Thanks Ajit Phukan for pointing this out).
Even if you don't have any specific hobbies, select one or two for the interview (Why we mentioned this? Please refer our reply to Ajit Phukan). Don't choose the ones that sounds interesting or unique. There may be some relevant questions. So, select the ones you are familiar with. Some common hobbies include Book reading, listening music, gardening, travelling etc. Prepare for the relevant questions. For example: if you hobby is book reading, be prepared to answer questions like your favourite books, favourite authors, story or morale of of your favourite books, awards won by the book or the author etc.
Place: Your native place. Know your place of birth or the place you live. Know the features, attractions and problems of that place. For example: if you are from Guwahati, be prepared to answers questions related to major problems of Guwahati, your suggestions for dealing with those problems, scope for development of your city, recent events related to your city etc.
Family: Tell about your family. To warm you up, they may ask you few questions related to your family. Answer such questions decently, without boasting or bragging anything.
Qualities: Tell me about your positive qualities. Point out five negative qualities. No one is perfect. So, everyone can have at least five negative qualities. The problem is pointing out your own good or bad qualities. Prepare yourself to face such questions.
Academic or Study related questions:
Education: What's your educational qualification? As you are a candidate of Combined Competitive Examination, obviously you have at least a Graduate degree. But which stream? What were your subjects? What are the importance of those subjects? Why you concluded studies after Graduation? Why there was a gap between your studies (if any)? Why you changed your line (example: engineering to management)? Be prepared to face some questions related to your academic career.
This section is important. Because simply uttering your degree or major subject can bring in lots of questions. For example: if you are a mechanical engineer, you may be asked what is horizontal drilling? Contribution of Assam in country's crude oil production? Why oil prices fluctuates? What is the future of non-renewable energy sector? What is green house effect? See how one study related question links to other general knowledge questions. If you did some research, expect some questions related to that field.
Alma mater: With questions related to your educational career, they may ask you about your alma mater. Get right facts about your school, college or university.
Subjects: Some members of the interview board might ask you questions related to your optional subjects in Combined Competitive (Main) Examination. Many candidates appears the Main exam with a new subject. For example: candidates from engineering taking education or sociology as optional. In such a case, it will be wise to prepare yourself to face few questions related to your new subject.
Career related Questions:
Job/Occupation: If you are currently employed, chances are more that you'll be asked one or two questions about your current job or career. For example: describe your role in current job position. If you are self-employed and you mentioned that before the board, you may be asked few questions related to that. For example: nature of your income source? why you choose to be self-employed? Such questions are asked to test your self-confidence, dedication and determination.
Or some questions related to your decision to join the civil services. Why Civil Service? Why you want to leave your job? Should the engineering or management guys join the the civil services?
General Knowledge Questions:
Current Affairs: It is impossible to guess general knowledge questions. Because GK is not actually a subject but a mixture of all subjects or topics in this universe. But interviewers often covers current events. So, read newspapers regularly. Collect and read all the big headlines in past few months. Some examples: Noble Peace Prize, Make in India, Aircraft accidents, world cup, ISL, rhino poaching, Planning Commission and Niti Ayog etc. And don't forget evergreen topics of Indian history, India Polity etc.
Assam-related: As you are being interviewed for a state civil servant job, expect some questions related to Assam. This is a vast area. From ancient Assam history to wildlife and from ethnic conflict to rural Assam, they can ask anything. Some example questions: what is the importance of name Saraighat? How many bridges over river Brahmaputra in Assam? Should Assam worry about China's river dam project over Brahmaputra? Do we need big dams? Why Guwahati is flooded ever year? Give your suggestions. Assam tea industry is prospering or struggling to thrive in international market. Govt initiatives for tea industry. SHGs are boon or bane. Why cancer is so widespread in Assam? Major hindrances in implementation of development projects in Assam. Scope of foreign investment in Assam.
Other Questions:
Some questions are asked to test the mental alertness of the candidate. Also there may be some questions to test your wit and judgement skills. They can ask questions from an imaginary situation. For example: You are travelling via NH37 through Kaziranga. It is early morning and you noticed some youths carrying a dead deer. What would you do? Some questions may even sound funny or unusual. Try to answer such questions intelligently, but without throwing away the juice (if any)!
Conclusion:
Interviews are not meant for measuring your knowledge. Your level of knowledge is measured through the Combined Competitive prelims and mains examination. Answer questions in brief (unless asked to explain) and with clear voice. If you try to show your knowledge and/or confidence by trying to explain everything, they'll catch you and rest assured they'll grind you! They can put you in uncomfortable position by pointing out a minor misspelled or wrong word. In such situation, stay clam and humbly answer the question. If you are able to identify your mistake, start your answer with a sorry. APSC interview tests your personality, intelligence, smartness, confidence and communication skills. Don't get nervous, even when you fail to answer some questions. All the Best.
Note: Don't hesitate to point out mistakes or add your own points. For APSC 2013 related information and discussions, check this page and this one too.