APSC CCE 2016 Cutoff, marks analysis and some thoughts
This article is about the cutoff marks of APSC Combined Competitive Examination (CCE) 2016, the process of which ended in November last year. Actually, it is an analysis of the marks received by the candidates who made it to the final list of APSC CCE 2016. Yes, this article is late. But it's better late than never. The delay was due to lack of time. Most of our team members are now busy, as some joined the civil services. From now on, a new team will be responsible for the updates.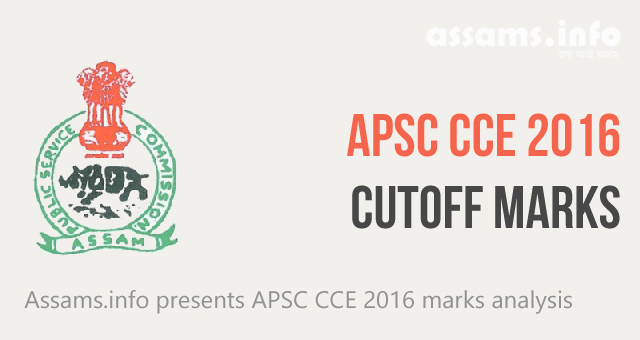 APSC CCE 2016 recruited for 95 posts of Assam Civil Service (ACS) (Jr. Grade), 60 posts of Assam Land & Revenue Service (ALRS) (Jr. Grade), 3 posts of Assam Police Service (APS) (Jr. Grade); 3 posts of Labour Officer, 2 posts of Superintendent of Taxes; 5 posts of Asstt. Registrar of Co-operative Societies, 7 posts of Inspector of Labour, 8 posts of Inspector of Taxes, 12 posts of Inspector of Excise and 10 posts of Asstt. Employment Officer. Hereby we congratulate all who made it to the list and are now working in their respective fields.
APSC CCE 2016 Cut-off marks:
Unlike the previous years, Assam Public Service Commission (APSC) did not to reveal the cutoff marks of the Combined Competitive Examination 2016 through RTI. Instead, they offered the marks though online mode, which was accessible only to the individual candidates. They ignored numerous RTI applications and didn't even bother to send a reply mentioning the basis of non-disclosure of information.
Anyway, Assams.info has the details of the cutoff marks of APSC CCE 2016. In fact, we have a complete list with the marks (cce 2016 mains and interview separately) scored by the selected candidates. But we will not post them online – because of a different reason, which we will mention in a while. In the mean time, how about the marks of the toppers? Following are the main and interview marks received by some of the toppers of APSC CCE 2016:
Topper of Assam Civil Service received: 984 +146 = 1130
Topper of Assam Land & Revenue Service received: 902 + 124 = 1026
Topper of Superintendent of Taxes received: 908 + 114 = 1022
Topper of Inspector of Taxes received: 856 + 159 = 1015
Topper of Inspector of Excise received: 882 + 115= 997
APSC CCE 2016 mains and viva marks:
After analysis of the marks of the selected candidates, we noticed some interesting points or patterns.
Optional scores are diverse: Some optional subjects are scoring while some are not. Several candidates scored 40-50% in their optional subjects, while some even scored more than 80%.
General studies and General English scoring: Most of the candidates received good marks either in General studies or General English or in both. Some with poor optional scores received top scores in those paper. Many received 70-80%.
Viva/Interview mark are weird: Some candidates got more than 150 in viva, while some received just around 90. For example, one candidate received 831 in mains and secured a good position in ALRS, just because of 165 marks in viva. On the other hand, some barely got a post just because of poor viva marks. The topper received 146 in viva.
Similar final marks: The mark difference between some positions are striking. Some candidates get such similar or close to similar marks.
Bottom line:
Viva or interview marks is the deciding factor in the APSC CCE. No matter how much we talk about reform, it is the viva marks which decides the fate of the majority of the candidates. It feels bad to see that some with poor marks in mains secured good positions while some with good marks in mains barely made it to the list or failed. Yes, many candidates with good marks in the written examination missed the train just because of their meager viva marks.
We are simply pointing out some facts based on the marks received by the candidates. If you are one of those candidates who made it to the viva round and failed to secure a position in the final list, don't be disheartened. Because it is the way how the system works. That 15-20 minutes of interview (often casual talk or chitchat) decides who is meritorious and who is not. If you still have time and chance, give your 100% for UPSC. Believe us, UPSC interview board judges a person better and gives marks accordingly. You will be surprised what is in store for you!
Why no cutoff marks?
We have noticed that some website owners have stole content from Assams.info, including the previous cutoff marks and posted them online without giving due credit to our site. Who are these people? Are they crooks or they are so naive! Everything available online is not free for republishing. There is a thing called copyright, which everyone should honour. We are not talking about the marks. Those can be obtained by anyone from any sources. But when you copy our words and publish them as your own, that's copyright infringement. Funny thing is that these thieves advertise themselves as APSC experts. No more freeloading!