Fakhruddin Ali Ahmed
Fakhruddin Ali Ahmed was a distinguished son of Assam, an able political leader and 5th President of India. Here is a brief biography of Fakhruddin Ali Ahmed.
Biography:
Fakhruddin Ali Ahmed was Born on May 13, 1905 in Hauz Quazi, Delhi. His grandfather Khaliluddin Ali Ahmed, was from Golaghat, Assam. He studied at Government High School in Gonda, Uttar Pradesh. After passing matriculation examination in 1921 (from Delhi), he went to St. Stephen's College, Delhi. In 1927, Fakhruddin Ali Ahmed graduated from Cambridge University, London. Returning to India, Ahmed joined Lahore High Court as an Advocate. But soon he moved to Assam with his father. Fakhruddin Ali Ahmed was married to Begum Abida Ahmed and had three children.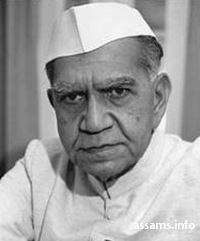 In 1931, Fakhruddin Ali Ahmed became a member of the Indian National Congress. He was a member of Assam Pradesh Congress Committee, Working Committee of the Pradesh Congress Committee and the All India Congress Committee. After the Provincial Assembly election in 1938, Fakhruddin Ali Ahmed joined the Congress Cabinet in Assam under Gopinath Bordoloi and became Minister of Finance, Revenue and labour.
In 1940, Ahmed jumped into the Satyagrah under the command of Mahatma Gandhi. He was imprisoned for one year and later kept in detention for 3 and half years. In 1946, Ahmed became Advocate General of Assam. But only for a brief period. After Independence of India, he got elected to Rajya Sabha (1952-53). In 1957 general elections, Ahmed was elected on a Congress ticket to Assam Legislative Assembly. He was re-elected in 1962.
In 1967, Fakhruddin Ali Ahmed was elected to Lok Sabha from Barpeta constituency of India. He became the Cabinet Minister for Industrial Development and Company Affairs. In 1971, Ahmed got re-elected from the same constituency and was given same ministry.
Fakhruddin Ali Ahmed was elected the President of India in 1974. As a president of India, he made many goodwill visits to friendly countries across the world. Fakhruddin Ali Ahmed died in office on February 11, 1977.
Assams.Info
Assams.Info - The Assam Information Portal