Sivasagar District, Assam
Sibsagar (aka Sivasagar) is a district in Assam state of India. It is located in upper Assam, about 365 km East from state capital city Guwahati. The Sivasagar district occupies an area of 2,668 square km and shelters a population of 1,150,253 (2011 census). The district has three sub-divisions: Sivasagar, Nazira and Charaideo. The district headquarters are located at Sibsagar city.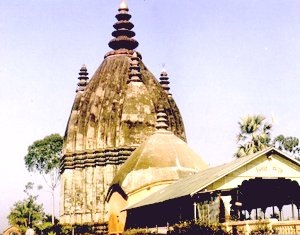 People:
As per 2011 India census data, the population of Sivasagar district is 1,150,253. The district has a population density of 431 inhabitants per square km and a sex ratio of 951 females for every 1000 males. Literacy rate in the district is 81.36%. Majority of the inhabitants in Sibsagar district are Assamese people speaking Assamese language.
Climate:
Sivasagar district of Assam enjoys different climate in different seasons. The Winter season is cold and lasts from November to February. Between March and May, occasional thunder storms arrives in the area. The temperature rises in Summer and reaches maximum in August. But regular rain gives some good relief. Autumn season lasts from October to November.
Economy:
Sivasagar district is rich in oil. ONGC operates here for oil and natural gas extraction. The district is also a good producer of Assam tea. There are several big tea gardens in the district. Majority of the population in Sivasagar district are associated with agriculture. Paddy is major crop. Potato, sugarcane, rapeseed & mustard, pulses, wheat etc., are also cultivated in the district.
Connectivity:
Sivasagar is well connected via road and railway. Nearest Railhead is Simaluguri, which is 16km away from Sibsagar town. Regular bus services (both day & night) to and from Sivasagar are available from Guwahati and other important towns. Nearest airport is only 55 km away in Jorhat.
Tourist Attractions in Sivasagar District:
Ranghar: Royal sports pavilion of Ahom kings.
Kareng Ghar: The capital and military station of the Ahom kings.
Talatal Ghar: Seven stories (four above and three below the ground) building constructed by King Rajeswar Singha.
Gargaon Palace: Royal palace of Ahom kingdom.
Charaideo: Pyramid like tombs of Ahom kings and queens.Joysagar Tank: Largest man-made tank in India. It is spread over an area of 318 acres.
Gaurisagar tank: Big tank covering 150 acres of land. Devidol, Sivadol and the Vishnudol temples on it's bank.
Namdang Stone Bridge: A stone bridge cut out from a single solid rock over the River Namdang. It still stands and Natinal Highway 37 passes over it.
Ajan Pir Dargah Sharif in Saraguri chapori.