Nalbari District of Assam
Nalbari is one of the 27 administrative districts in Assam. Nalbari is situated between 26o North and 27o North latitude and 91o East and 97o East longitude. It is surrounded by Darrang and Kamrup district lies in the east and the Barpeta district in the west. On it's North, there is Indo-Bhutan international border. Brahmaputra river flows in the South of Nalbari district.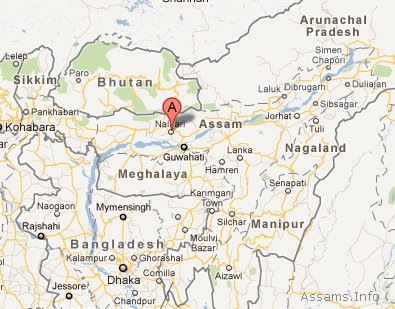 The total area of Nalbari district of Assam is 2257 sq.km. As per 2011 census, the population of Nalbari is 769,919. It  has a population density of 763 inhabitants per square kilometre (1,980 /sq mi). Nalbari district has a sex ratio of 945 females for every 1000 males, and a literacy rate of 79.89 %.
Places of Interest in Nalbari District:
There are many tourist attractions and places of religious interest in Nalbari district of Assam. For example: Hari Mandir; Billeswar Temple; Sonkuriha; Ganga Pukhuri, Sonkuriha; Mahmara Pukhuri, Chandkuchi; Angradhowa Pukhuri; Buddhist Temple; Daulashal temple; Basudev devalay etc. Nalbari is known for it's Raax festival (Lord Krishna Raas Leela). Nalbari Raax festival is celebrated in the premises of Hari Mandir, which is situated in the heart of the Nalbari town.
How to reach:
National Highway 31 links Nalbari with other parts of the state. The Nalbari town is 2 Km away from the National Highway 31. Nearest Railway Junction is Rangia. Nearest airport is L.G.B. Airport, Borjhar Guwahati.
Map of Nalbari District:
[googlemap width="614" height="400" src="http://maps.google.com/maps?t=m&vpsrc=0&ie=UTF8&ll=26.443525,91.441956&spn=0.983678,1.683655&z=9"]