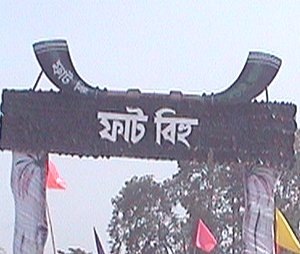 Lakhimpur is a district in Assam. It is situated on the North-East corner of the state and occupies an area of 2,277 square km. The district lies between 26048' and 27053' northern latitude and 93042' and 94020' east longitude. The Lakhimpur district is divided into two sub divisions  viz. North Lakhimpur and Dhakuakhana. The district headquarters of are located at North Lakhimpur.
Lakhimpur district is bounded on the North by Siang and Papumpare District of Arunachal Pradesh and on the East by Dhemaji District of Assam and Subansiri river. Majuli Sub Division of Jorhat District stands on the South, while Gahpur sub division of Sonitpur District is on the West.
History:
The name Lakhimpur is believed to be originated from the words "Lakshmi" and "Pur". Lakshmi is the Hindu goddess of prosperity, while "pur" means full in Assamese. The area is mainly dependent upon agriculture and paddy. Assamese people often call paddy as "Lakhimi". So, the name Lakhimpur means full of paddy or the place where paddies are grown abundantly.
Till 1950, Lakhimpur area was regarded as "Koliapani", as there was no road communication. A temporary aerodrom was started in 1954, while ASTC started it's bus services from 1957.  The North East Frontier Railway started it's train services in the district from 1963.
People:
The population of Lakhimpur district is 1,040,644 (2011 India census data). The population density is 457 inhabitants per square km. The sex ratio in the district is 965 females for every 1000 males. Lakhimpur district has a literacy rate of 78.39%. The district is inhabited by Assamese people belonging to Ahom, Kalita, Koch castes. But there are also Misings, Deoris, Sonowal Kacharis and Khamtis. Other than these indigenous people, Lakhimpur is also shelters a large population of Bengalis, Biharis and Nepalis.
Wildlife and forests:
Forests in Lakhimpur district are mainly tropical rain forest. Some important reserved forests are Ranga Reserve, Kakoi Reserve, Dulung Reserve and Pava Reserve. Lakhimpur is also a home to Bardoibum-Beelmukh Wildlife Sanctuary, which it shares with Dhemaji district. Wildlife species found in the district include elephant, tiger, buffalo, deer etc. Varieties of tree species and rare orchids are also found in the forests of Lakhimpur.
Connectivity:
The distance to Lakhimpur district is about 380 kilometers by road from state capital city Guwahati. Regular bus services connects Lakhimpur with all major towns in the state. Both day and night bus services are available. The nearest railway station is situated in Nakari, about 2 km from Lakhimpur town. Arunachal Express train operates between Lakhimpur and Guwahati via Rangia, Rangapara and Biswanath Chariali. Nearest airport is in Lilabari, which is 5km away from district headquarters. The district is also connected via waterways. Regular ferries are also available to and from Dibrugarh, Sivsagar and Jorhat.