Dainik Asom is a popular daily newspaper in Assamese language. Dainik Asom is published by Assam Tribune group of Guwahati. The Dainik Asom is one of the oldest Assamese dailies and is currently in it's 47 years of publication. This Assamese newspaper is published simultaneously from Guwahati and Dibrugarh city of Assam. Besides the standard print edition, Dainik Asom also has an Internet edition. The e-paper of Dainik Asom is free for all and can be accessed via the website link below.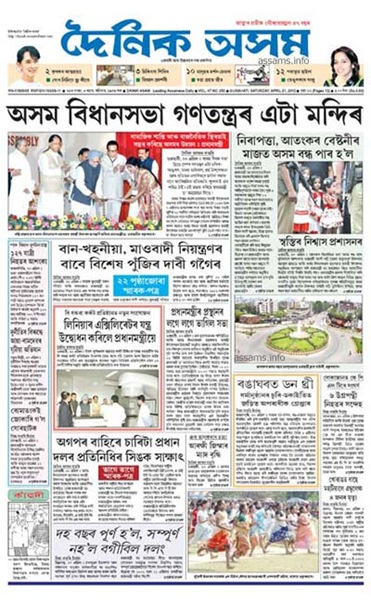 Read Dainik Asom Online (Internet Edition):
http://www.assamtribune.com/dainik/index.html
Dainik Asom Contact Address:
The Assam Tribune Building, 
Moniram Dewan Road, Chandmari,
Guwahati-781003
Phone : 0361-2661359/6111930; Fax: 0361-6111911
Dainik Asom – Assamese Daily Info:
Dainik Asom – Assamese Daily business listing on Assam Yellow Pages. Find detailed Dainik Asom – Assamese Daily reviews, details, address & contact numbers.