Amar Asom is a daily newspaper published in Assamese language. Established on April 21, 1997, this Assamese daily is published by G.L. Publications, Guwahati. Amar Axom is simultaneously printed from Guwahati, Jorhat and North Lakhimpur in Assam. The chief editor of Amar Asom is Homen Borgohain, while executive editor is Prasanta Rajguru. Amar Asom newspaper is also available online as an e-paper. The Internet edition of Amar Asom is updated daily and is free for all. Anyone can visit and read the full paper online.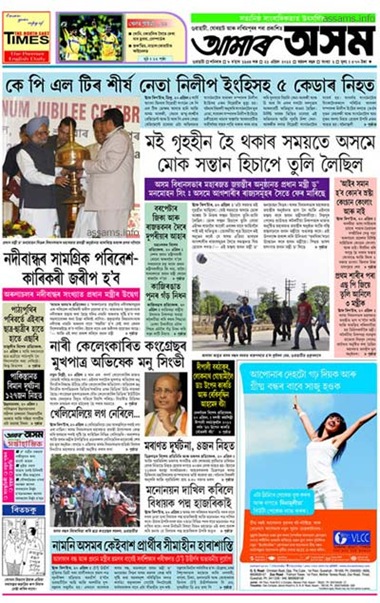 Read Amar Asom Online (Internet Edition):
http://amarasom.glpublications.in
Amar Asom Contact Address:
G.S. Road,
Ulubari, Guwahati-781007
Ph: 0361-2458395(Direct), 2521465/66/67 (PBX)
Fax: 0361-2521620/2521664/2463461 (Advertising)
Amar Asom – Assamese Daily Newspaper Info:
Amar Asom – Assamese Daily Newspaper business listing on Assam Yellow Pages. Find detailed Amar Asom – Assamese Daily Newspaper reviews, details, address & contact numbers.