AHSEC 2012 Assam Higher Secondary (10+2) Exam Results
Assam Higher Secondary (10+2) examination, conducted by Assam Higher Secondary Education Council (AHSEC) in 2012, will be announced within 24 hrs. The 10+2 exam (also known as HS Second year) results (Science, Arts & Commerce) will be available online shortly. Keep an eye on the space below to find Assam HS Second Year results right here in Assams.info. Candidates can get their Class 12 results by providing roll numbers. The 10+2 results will also be available in district headquarters and higher secondary schools/colleges across the state of Assam.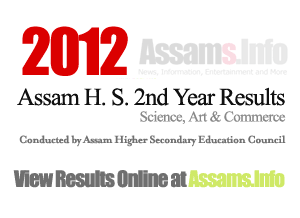 Assam Higher Secondary 2nd Year (10+2) Exam. Results Online:
Enter Your Roll and No. (e.g. Roll :0355 and No : 20066)
All the best to all.
Assams.Info - The Assam Information Portal